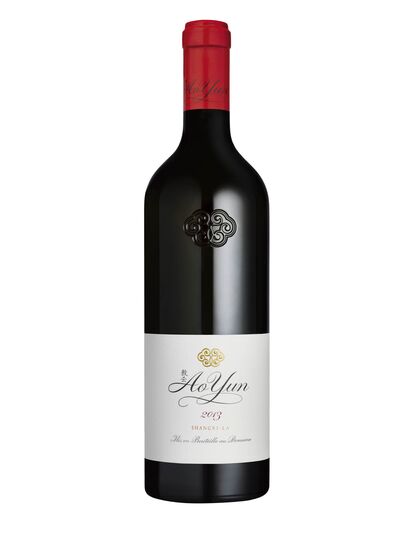 Below is something I wrote for Waldorf Astoria magazine about Chinese wines. After talking to a lot of people and trying quite a few wines, I have come to the conclusion that China really isn't the ideal place to make wines. It would be much easier and cheaper just to import the stuff from Spain or Australia. In the main wine region Ningxia the winters are so cold that they have to bury the vines to stop them dying. This is a very expensive operation and many die anyway. And yet China is beginning to make some good wines. Amazing what lots and lots of money can do.
On a recent visit to the restaurant at Chateau Lynch-Bages in Bordeaux, I noticed that the majority of the visitors were Chinese. These weren't nouveau riche showing off, the cliche of wealthy Chinese businessmen mixing their Chateau Petrus with Coca-Cola is at least ten years out of date, they were clearly educated enthusiasts.
There are now as many people studying WSET courses (Wine and Spirits Education Trust) in China and Hong Kong as there are in Britain. Fongyee Walker MW (Master of Wine) who runs a wine consulting business in China describes how "consumers are incredibly engaged and very very eager to try all sorts of wine and to discuss it." At this November's Decanter Shanghai Fine Wine Encounter held just across the river from the Waldorf Astoria on the Bund, Christelle Guibert from Decanter told me that "the clientele were very young, much younger than you would get in Britain."
In 2014 Vinexpo reported that China was now the world's largest consumer of red wine. This was a mistake caused by the Chinese characters for red wine also being used generically for wine. Still the Chinese drink a lot of wine and the amount is increasing every year. Much of it will home produced but it's hard to know exactly how much as though International Organisation of Vine and Wine places China as the country with the second biggest vineyard area in the world much of these vines are table grapes. What is safe to say is that with its expanding middle class, China has just the base needed to sustain a quality wine industry.
The capital of China's wine production is Ningxia, a semi-arid region 1200 km inland from Beijing where the local government has done much to encourage viticulture. I tried some impressive wines recently from Changyu-Moser: a collaboration between Changyu, one of the country's largest producers, and Lenz Moser from Austria. According to Moser "Ningxia has ideal conditions for winemaking." The major challenge is the freezing winters where vines have to be buried in the soil to protect them – an expensive laborious operation.
Just back from a trip to Ningxia, Christelle Guibert recommended wines from Kanaan winery. Other critics have tipped Silver Heights with their young winemaker Emma Bau. The majority of these wines are Cabernet blends made in the image of Bordeaux though Chandon produce a champagne-style sparkling wine and Grace Vineyards make a highly regarded Aglianico, a grape from Southern Italy.
Tourism is a big thing: most wineries having dramatic buildings in either French Chateau, traditional Chinese or modern style. China's other main wine region, Shandong, is handier for Western tourists being only 500 km from Beijing. Here Chateau Lafite have an estate though the wines aren't yet for sale and the local government is building a $900 wine city to attract visitors  The climate is less extreme than Ningxia but the damp weather can cause fungal problems.  
These wines have been making waves outside China. Back in 2011 the Jia Bei Lan 09  from Ningxia won a  trophy at the Decanter Awards. Berry Bros & Rudd, the British wine merchant, are backing Chinese wine with a selection from Changyu-Moser. Buyer Mark Pardoe MW said: 'China is already the eighth largest producer of wine in the world so it was only a matter of time before it entered the international market." As well as reds, they will also be stocking some ice wines, intensely sweet wines made from frozen grapes from Liaoning near the border with North Korea.
These are all expensive products but not compared with a new wine from Moet Hennessy made in Yunnan province which will retail for £225 a bottle for the inaugural 2013 vintage. It's called Ao Yun (see image above) meaning flying above the clouds. The winemaker Maxence Dulou, formerly of Cheval Blanc, told me:  "we were searching for the terroir to make world class wine in China. We needed a microclimate that was sheltered from the monsoon by mountains but not too cold."
The place they found was ridiculously remote: over 2,000 metres up in mountains on the border with Tibet and Laos, five hours drive from the nearest town. Cabernet Sauvignon vines were planted in the 2000 by the far-sighted local government looking to diversify farming. Ao Yun is made from over 300 plots of land at various altitudes. It's a stunning wine with the most gorgeously pure fruit and once you realise how much effort goes into it, the price tag does not seem unreasonable. Even so, Dulou told me that they don't make any money on it.
It's very much a wine to be appreciated by wealthy connoisseurs rather than displayed and as such epitomises how Chinese attitudes to wine have changed. It's still early days for quality wine production in China but the success of this first vintage of Ao You demonstrate that China has the potential to create truly world class wine. Look at China now and in the words of Lenz Moser "think of Chile 25 years ago or Napa 30 years ago."